Note: Good news for Blackberry users. We heard you..! Now it supports BB 9700 as well as 9800 models.
This new version supports both touch & non touch Blackberry models running version 4.7 or above OS.
Tested on devices with touch & non-touch screen models.
The Project Manager Agile Scrum Quick Ref PMP features a concise set of agile project management process flow, scrum methodology, formulas and glossary for quick reference. It can be used as a memory refreshing tool by a seasoned project management professional or as a simple, basic and brief instruction set for accomplishing a specific task by a project manager professionalPMP.
The main application is divided into 3 main modules:
1. Agile
The Agile module gives high-level overview of following :
Agile Overview
Agility
Manifesto
Risk
Project Success
Methodology
2. Scrum
The Scrum module gives high-level overview of following :
Scrum Overview
Risks
Tasks
Artifacts
Sprint
Estimation
Terminology
3. Glossary
This module is a handy list of very useful formulas, terminologies mostly used by agile project managers in their daily duties using scrum methodology.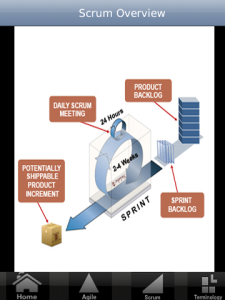 App Name:PMP Agile Scrum Quick Reference-Cheat Sheet for Project Manager
App Version:4.0.0
App Size:1986 KB
Cost:US$2.99 USD
Filed Under: Education Apps Tags: Agile Overview, BB, Project Success, Scrum Overview Previous Post: Georgia Southern – Eagle Mobile
Next Post: Pythagoras