Safety Talks – Working at Heights UK Edition
Welcome to Safety Talks – Working at Heights UK Edition for BlackBerry PlayBook.
Safety Talks is an illustrated training aid, covering all the main safety related topics for many industries in an easy to follow method.
Each Safety Talk gives the reader a simple outline of Health and Safety with SpeechBubbles unique illustrations.
The Safety Talks included in the Working at Heights UK Edition are:
- Working at Heights
- Scaffolding
- Mobile Tower Scaffolds
- Ladder Use
- Use of Hoists
- Mobile Elevated Work Platforms
- Working Platforms
- Use of Lifting Equipment
- Use of Lifting Accessories
- Fall Arrest and Suspension Equipment
Languages included:
- English
- Latvian
- Lithuanian
- Polish
- Czech
- Russian
- Romanian
SpeechBubble Safety Talks are all developed with help from 3rd party Health and Safety Professionals and uses real translation houses for the different languages. As well as the professional and accurate approach to the content of Safety Talks they are also illustrated in Hi-Res Vector so it is a very rich media to use and understand.
Please feel free to check out our website www.speechbubble.ie or email rosie@speechbubble.ie with any queries or updates you would like to see.
Enjoy
The SpeechBubble Team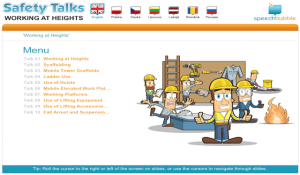 App Name:Safety Talks – Working at Heights
App Version:1.0.5
App Size:6972 KB
Cost:US$11.99 USD
Filed Under: Education Apps Tags: Safety Talks Previous Post: misdGO
Next Post: Spanish Chinese Dictionary