University of Toronto Libraries in Your Hands!
Renew items, check your account, find library hours, new books, tweets, and more.
Weve also made it easy search our library resources on your mobile: no need to enter full words, or wait for results. Just type the first couple of letters of words and see the search in action while you type. So for Margaret Atwood simply type ma atw. Or to search for Famous Last Words by Timothy Findley simply type fa la wo ti fi.
We have introduced the latest mobile solution for UTL and well be adding new content over time. We hope you enjoy it as much as we do!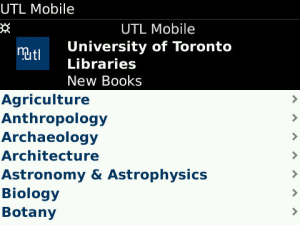 App Name:UTL Mobile
App Version:4.7.20
App Size:366 KB
Cost:FREE
Filed Under: Education Apps Tags: Margaret Atwood, UTL Previous Post: Russian Spanish Dictionary
Next Post: Guitar Chords Scales Tuner