Earth charging monitor and/or screensaver, with Oceans Meter that shows charging status by turning Earth to desert or refilling oceans.
You can enable or disable the screensaver shows briefly when backlight times out and charging monitor features separately, or easily disable or re-enable the entire app from the menu.
If your clock keeps blocking the charging monitor, go into its options and set "When Charging" to "Do Nothing".
This app is very simple but with a high-quality image and efficient to maximize power conservation and charging speed. If you would prefer additional features such as a clock integrated with the Earth with an orbiting moon as the second hand, optional shifting colors, charging target-reached alarm, memory recovery on exit, and more options for how the app should start and stop automatically, please see the more advanced version of this app, Earth Saver.
Other space themed screensavers are Earth vs. Mars, and the Martian Clock.
Answers to Reviews:
Rotating the Earth would have used a lot more memory and power, draining the battery and making it take longer to charge. If an efficient way can be found to do that, it may be added. Thanks for the suggestion!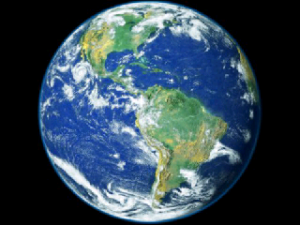 App Name:Earth Screen
App Version:1.1.2
App Size:75 KB
Cost:US$0.99 USD
Filed Under: Entertainment Apps Tags: Earth Saver, Martian Clock, Oceans Meter Previous Post: TAURUS desktop Clock
Next Post: MovieSnap Mobile with GPS