Ever wanted someone to help you make your decision for you? Well, Fortune Cookie is what you need!
This application will give you guidance on what your decision should be.
Simply ask your decision question and then tap the cookie to reveal the answer.
Never be indecisive again!
Note: This application suggests answers. It is not liable for any result of the answers given.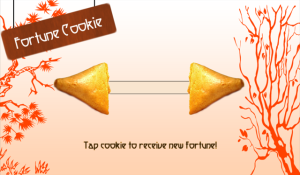 App Name:Magic Fortune Cookie
App Version:2.0.0
App Size:870 KB
Cost:FREE
Filed Under: Entertainment Apps Tags: Fortune Cookie Previous Post: Pedestrian Horn
Next Post: Aquarium HD