Banco de Bogota Mobile Banking for your BlackBerry
From now on, you can make use of all of the transactions of Banco de Bogotá Mobile Banking in an easier way from your BlackBerry device. Inquiries, Transfers, Payments and more can be done in a very EASY and SAFE way.
Available only in Spanish
Security: All transactions are sent through encrypted communication channels where sensitive data like account numbers or PINs are not required or asked for. The only password required is the one that you enter in order to activate the application.
Requisites: In order for you to use this application, you must be registered in the Banco de Bogota Mobile Banking services. For more information, please visit us at www.bancodebogota.com
Requirements:
-To be registered in Banco de Bogotá Mobile Banking service.
-Data plan and a SMS plan This service is free; however, mobile operator costs might apply to you
-At least 1MB of available space in your device
-BlackBerry Platform 4.5 or higher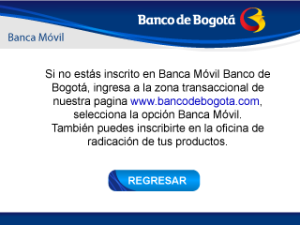 App Name:Banca Movil Banco de Bogota
App Version:1.1.0
App Size:436 KB
Cost:FREE
Filed Under: Finance Apps Tags: Bogot Mobile Banking, Bogota Mobile Banking, EASY, SAFE Previous Post: Time Clock
Next Post: SR Expenses