Now works with or without an account!
iStockManager has teamed up with TD Ameritrade to provide the most robust trading application available for your BlackBerry. Designed to give you secure, quick and simple access to your TD Ameritrade account to place trades and check the market while on the go. You will have access to equity and option trading, streaming data, real time balances and positions, news and more right at your finger tips. Make trades or simply keep an eye on the market, iStockManager gives you the freedom, access and security you need to stay on top of your TD Ameritrade account.
Features:
- Fully integrated trading with TD AMERITRADE
- Real Time Streaming Quotes
- Charts
- Level II quotes
- Option chains
- Market Data
- Trade Stocks & Options
- Order Status
- News
- Account information
- Balances and Positions
- Much more!
Look for iStockManager in TD AMERITRADE s partner tools.
Ask your questions, report bugs and share your thoughts in our forum:
www.istockmanager.com/forum
Brokerage services provide exclusively by TD AMERITRADE Inc. member FINRA/SIPC.
Requires a TD AMERITRADE account to access.
TD AMERITRADE and iStockManager are separate and unaffiliated companies and are not responsible for each others products and services
You must read and agree to these usage terms in order to use our software: http://www.istockmanager.com/eula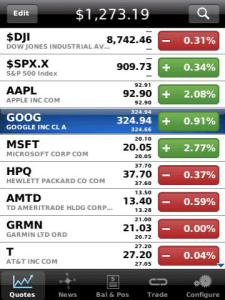 App Name:iStockManager – TD Ameritrade
App Version:1.8.0.3
App Size:1168 KB
Cost:FREE
Filed Under: Finance Apps Tags: App Name, Features Fully Previous Post: STOCK ICON JNJ
Next Post: Reuters Insider