MoneYou introduces the new Goal Savings App.
You are saving for a goal? For instance for a new car, your next Holidays or the study of your children? With MoneYou you can open an account for each savings goal which you can access via computer or mobile phone. Not only that: you can also give each account an individual name for instance the name of your savings goal. In that way youll always have an overview of your goals.
For each account you will see on a daily basis how much interest was earned. You can see all transactions and you can transfer money between your savings accounts and your banking account.
You dont have a savings account at MoneYou yet? No problem. With the MoneYou Goal Savings App you can open a new account in a few minutes.
Without annoying paperwork.
Anyway: download the app and try it out.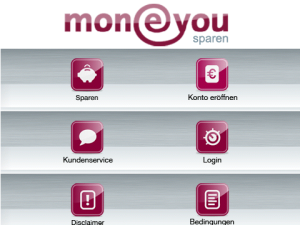 App Name:MoneYou Spar-App
App Version:1.0.0
App Size:1477 KB
Cost:FREE
Filed Under: Finance Apps Tags: Goal Savings App Previous Post: Quick and Easy Mortgage Calculator
Next Post: Chicago Title Now for Colorado