MrTaxes.ca REGISTERED RETIREMENT SAVINGS PLAN RRSP ASSISTANT!
MrTaxes.ca RRSP assistant tells you immediately if your RRSP is adequate. If you have too much in your RRSP you will be taxed heavily in retirement. Do you want to retire or work for the rest of your life to pay more tax?
This RRSP assistant will calculate your RRSP growth to retirement. It will then prompt you for action if you have too much. You have too much if you cannot draw your entire RRSP tax free prior to death.
If you don?t have enough you will run out of RRSP money prior to death. We don?t want to see this happen to anyone!
The application is simple:
Enter your current age, desired retirement age, current RRSP amount, lump sum RRSP contribution, annual RRSP contribution and expected rate of return. MrTaxes.ca RRSP assistant will let you know what action you need to take.
More details: http://www.MrTaxes.ca/RRSP.php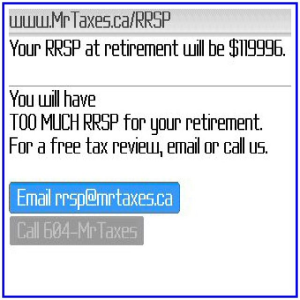 App Name:MrTaxes RRSP
App Version:1.1.0
App Size:12 KB
Cost:FREE
Filed Under: Finance Apps Tags: RRSP Previous Post: Banco del Tesoro
Next Post: Christine Madrid's Mortgage Calculator