An application that provides NCB clients with access to their portfolio and relevant market research.
Receive the following information from NCB, who are one of Irelands largest independent investment firms and a leading provider of wealth management, institutional equities and corporate finance services for over 25 years.
* Irish Equity Research Daily Report
* Wealth Management Research Daily Report & Quarterly Newsletter
* European Equity Research Daily Report password protected / clients only
* Account Valuation password protected / clients only
NCB Wealth Management specialises in the diverse and often complex needs of charities, credit unions, corporates, pension funds and wealthy individual investors. We believe we have a unique insight into our customers needs, and aim to deliver an altogether more appealing customer experience. We are genuinely committed to building long-term client relationships. More than anything our objective is to add value and make money for our clients.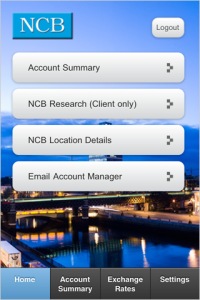 App Name:NCB Client View
App Version:1.0.0
App Size:1446 KB
Cost:FREE
Filed Under: Finance Apps Tags: Account Valuation, NCB Previous Post: Loan Payment Calculator
Next Post: STOCK ICON C