QE Mortgage Calculator for BlackBerry Playbook is a very useful tool enabling users to calculate mortgage payments on the go. Quick & Easy Mortgage Calculator can calculate mortgage payments for Semi-Annually i.e. Canadian Mortgages, Monthly i.e. U.S. Mortgages and Annually compound periods.
This application is for anyone who is interested in calculating the mortgage payments and the amount of interest paid throughout the amortization period loan term. There is a "copy results" button that enables you to copy the results in device clipboard and paste it in your desired destination for instance email application or browser form
QE Mortgage Calculator is recommended for Real Estate professionals, Mortgage specialist and home buyers.
QE Mortgage Calculator is currency agnostic as such no matter where you live, as long as your bank mortgage is compounded either semi-annually for example banks in Canada or monthly for example banks in United States of America or Annually, you can use this application for mortgage calculation.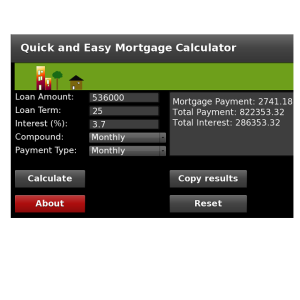 App Name:QE Mortgage Calculator
App Version:1.0.2
App Size:1397 KB
Cost:US$0.99 USD
Filed Under: Finance Apps Tags: Canadian Mortgages, Real Estate, Semi Annually, United States Previous Post: U.S. Global Investors
Next Post: STOCK ICON GOOG