Be able to track the Stock Market and your favorite list of stocks with this feature-rich application.
There are over 20 different worldwide exchanges supported for current stock price data as well as stock chart data for all major USA exchanges.
Easily search for your favorite stocks and save them to a watch list with a click of a button. View the price history chart of a stock by selecting it from the list. Interact with chart by selecting a time frame, clicking on the chart and dragging to find historical prices, or moving the slider to view a specific date range. This featured packed stock application will not disappoint!
FEATURES INCLUDE:
——————-
Create a scrollable watch list with UNLIMITED symbols.
Refresh stock prices with a click of a button.
Search by Stock Symbol or Company Name. GE or General Electric
Search results are displayed as you type!
Add Stocks directly from the search results to your watch list.
Select a stock to display up to 10 years of price history information for almost any stock on a USA exchange. Does not include intraday chart
Interact with the stock history chart to find the price of the stock on a given day.
Maximize the chart to take full advantage of the large tablet screen size.
Scrollable Detailed Stock Information includes: Market Cap, % Change, Price, Bid, Ask, Change, Book Val, Open, Volume, Day Low, Day High, 52 Week Low, 52 Week High, EPS Earnings Per Share, EBITDA, P/E Ratio, Short Ratio, Change From 52 Week Low, Change From 52 Week High, 50 Day Moving Average, 200 Day Moving Average, Price/Sales, Price/Book, Dividends Per Share Div P/S.
EXCHANGES SUPPORTED For current stock price
——————-
USA / Can. – NYSE, NASDAQ, ASE, CBT, CME, NYB, CMX, NYM, OBB, PK, TOR, VAN
Eur. – AMS, BAR, BER, BIL, CPH, DUS, EBS, FRA, GER, HAM, HAN, LSE, MAD, MCE, MIL, MUN, OSL, PAR, STO, STU, SWX, VIE
Asia Pac – ASX, BSE, CPH, HKG, JKT, KOE, KSE, NSI, NZE, SES, SHH, SHZ, TAI, TLV, TWO
This application uses Yahoo! Finance for all current stock price data as well as detailed stock information. Stock data is delayed at least 15 minutes.
5-star ratings and reviews help keep the updates and features coming. Thanks for using Stocks!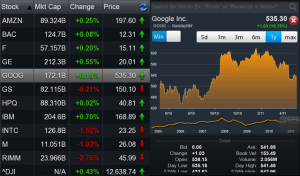 App Name:Stocks
App Version:1.4.0
App Size:1155 KB
Cost:US$2.99 USD
Filed Under: Finance Apps Tags: CPH, USA, Week High, Week Low Previous Post: What's Your Number Retirement Calculator
Next Post: e-Mobile Today Stocks Expansion Pack