PLEASE NOTE: Calculate by QxMD has replaced Cardio Calc as the most up to date Cardiology clinical calculator and decision support tool.
__________________________________________________________________________________
From the makers of "The ECG Guide" comes Cardio Calc, freely available to the medical community.
This Cardiology app is a critical tool for anyone – not just Cardiologists managing patients with cardiovascular disease or hyperlipidemia.
Determine cardiovascular risk and guide lipid treatment using the Framingham and Reynolds Risk Scores
Use the CHADS2 score to guide treatment in atrial fibrillation
Better understand the risk of bleeding from anticoagulation in atrial fibrillation
Will your patient benefit from a stress test? Calculate pre-test probability of coronary artery disease.
Determine prognosis in heart failure using the Seattle heart failure model, Forrester heart failure class and Stevenson heart failure class.
Diagnose Infective Endocarditis
Determine predicted mortality EuroSCORE Logistic and risk of dialysis with cardiovascular surgery.
Use the TIMI risk score in ACS to help guide treatment
Calculate ideal body weight, BMI and BSA.
Review classification of angina CCS and congestive heart failure NYHA functional class
In addition, it includes some of the most useful content from other areas of medicine, including general practice, hematology, gastroenterology, nephrology and obstetrics.
QxMD Software Features
Developed by expert practicing physicians
Point-of-care tools in the areas of cardiology, general practice, hematology, gastroenterology, nephrology and obstetrics.
Detailed references
Comprehensive results
SI and US units
*Compatible with STORM, however STORM users will need to use their device in landscape mode while inputting numerical values. This will be corrected ASAP.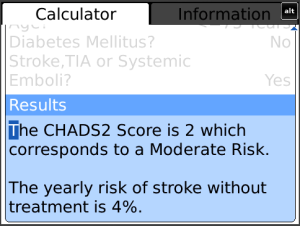 App Name:Cardio Calc
App Version:1.1.0
App Size:258 KB
Cost:FREE
Filed Under: Health & Wellness Tags: Cardio Calc, CCS, Diagnose Infective Endocarditis, STORM Previous Post: Oxford Handbook Of Clinical Examination and Practical Skills
Next Post: Baby Feeding