As featured in the New York Times, Guardly is a new mobile personal safety service that helps you alert, connect and then collaborate with your family, friends and authorities during an emergency with a single tap to your BlackBerry.
With Guardly, alerted parties can collaborate in real-time by conference call, instant messaging and map-based, location-aware positioning to coordinate response plans between you and your responders in an emergency.
Ideal for students, young professionals, travellers, sports enthusiasts, or anyone who frequently walks alone at night, is concerned about dating safety, is responsible for children, may find themselves in abusive relationships or is faced with medical conditions or even a natural disaster.
Guardly Alerts is a free service that includes the following features:
Emergency alerts: Send location-based emergency alerts via voice call, SMS and email to your personal safety network;
Guardly Connect is a subscription service that includes the following key features and services:
One-tap activation: Guardly alerts two safety networks simultaneously – a users personal safety network by voice, SMS and email, and 9-1-1 or any other emergency phone number;
Contact collaboration: Users can collaborate with emergency contacts in real-time by conference call, instant messaging and map-view showing nearby locations of responders;
LocationAssure: Guardly uses GPS, cell-tower triangulation and WiFi hotspots to find a users real-time location for the entire duration of an emergency incident, even if the user is on the phone with 9-1-1;
NetworkAssure: Built-in intelligence to detect network failures and wait until a signal is present to transmit data and make calls to 9-1-1 to ensure users are connected to their safety network;
Auto-dial emergency services including 9-1-1;
Photo sharing: Users can share photos with their personal safety network instantly and securely.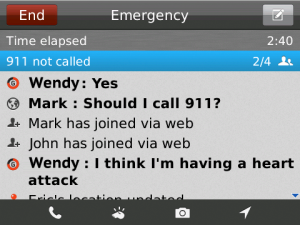 App Name:Guardly
App Version:1.0.0
App Size:1368 KB
Cost:FREE
Filed Under: Health & Wellness Tags: Guardly Alerts, Guardly Connect, New York Times, SMS Previous Post: Body Tan Scan
Next Post: Water Consumption Tracker Free