To reduce your risk of heart disease and stroke, monitor and maintain healthy Blood Pressure and Cholesterol levels with HandyLogs Heart.
* Visualize your cardiac health through graphs with recommended limits in differential colors. Its more meaningful then rows of numbers produced by most modern blood pressure meters.
* Installs on phone and works everywhere, even when there is no signal on your phone. Travel the world and use it without needing internet connection.
* Save data to HandyLogs.com when you want to and forget about losing your cardiac health records even if something happens to your phone.
* Have the comfort of using large screen and keyboard for viewing, printing and sharing blood pressure or cholesterol reports from any internet connected PC.
* Whats more, you can share your blood pressure and cholesterol readings with your doctor, friends & family to regularly check up on your cardiac health. Or the reverse, you can check up on your loved ones when they use this heart app.
* Never run out of space. Keep multiple years of data.
Features
* Record Systolic, Diastolic & Pulse readings along with time stamp and personal notes
* Record your lipid profile in terms of Total Cholesterol, Triglycerides, LDL, HDL along with notes and date
* Get extended premium service to create archives, generate reports and export data.
* Powerful filtering mechanism to slice, dice and analyze your blood pressure and cholesterol numbers.
HandyLogs suite of mobile apps can track Blood Pressure, Cholesterol, Diet, Blood Glucose, Insulin, HbA1c, Calories, Cardio Exercise, Gym Workout, Body Weight & Measurements. Take advantage of our Premium Service at www.handylogs.com to monitor your health & fitness better.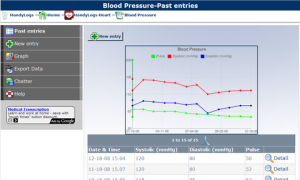 App Name:HandyLogs Heart – Blood Pressure and Cholesterol Tracker
App Version:3.1.0
App Size:418 KB
Cost:FREE
Filed Under: Health & Wellness Tags: Blood Pressure, Cardio Exercise, Gym Workout, Premium Service Previous Post: AnesthesiaICU Infusion
Next Post: Pregnancy Pal