Key Terms: Med, Meds, Pill, Pills, Reminder, Reminders, Prescription, Prescriptions, Medication, Medications, Medication Management.
MedsIQ helps busy patients, parents, and caregivers track the myriad details of medication management. With MedsIQ, you can:
* Organize the details of all medications in a single place.
* Track the status of a prescription
* Integrate a care team with contact information for Physicians, Pharmacists, Nurses, Health Aides and other Caregivers.
* Designs schedules
* Keep pillbox inventories
* Receive visual, audible and spoken dose reminders, and
* Get reminders to drop off prescriptions and pickup medication for up to 10 users and unlimited medications.
* View history of actions and reconcile missed reminders.
* Email medication list and history.
Download:
* "MedsIQ – Individual" for patients with complex medication schedules or who have difficulty adhering to their medication regimen only 1 user.
* "MedsIQ – Multiuser" for parents coordinating medications for one or more children as well as themselves up to 10 users.
* "MedsIQ – Multiuser" for family caregivers helping to maintain the independence of a senior family member up to 10 users.
* "MedsIQ – Professional" for professional caregivers and health aides helping clients with their medication regimens up to 10 users.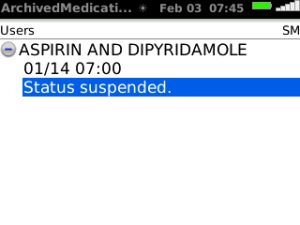 App Name:MedsIQ – Multiuser
App Version:1.0.21
App Size:427 KB
Cost:US$4.99 USD
Filed Under: Health & Wellness Tags: Medication Management Previous Post: Manage PMS Now
Next Post: Greattrainer