Turn your BlackBerry into a Medication Reminder device !
1. Download & Install the MEDsTimer app
2. Manually enter Medicine schedule or better yet.
Enter your Medication schedule using the Schedule+ option on the website
Use the Submit key to generate a sync key
3. Open the MEDsTimer app and Navigate to Enter Schedule and Auto Sync Key
Input the value of the Sync Key generated in above step 2 from the webstie.
Vola ! your medication schedule has been transfered to your BlackBerry and have transformed it to a Medicine reminder tool ! !
Helping you manage a Healthier you.
Other Features:
_ Many options to enter Medicine Schedule – Schedules are easily entered in the cell phone by taking a picture of the website generated 2D Barcode or Auto Sync key from the website.
_Pre-built schedules for short medicine courses of 5 to 7 days take the guess work out of calculating the times every 6-8 hours and a custom schedule is generated for you.
_Next Dose Counter – A quick built in counter helps you keep track of Over the counter medicines and reminds you when it is safe to take the next one preventing common cold medicine abuse.
_Medicine History – MEDsTimer keeps history of the medicines taken, dose and time. This history can be emailed or printed for Physician review or record keeping.
NOTE:
_Supports up to 170 weekly medicine schedules
_Option to renew schedules for the next 7 days
_GPS and wireless carrier access required for location services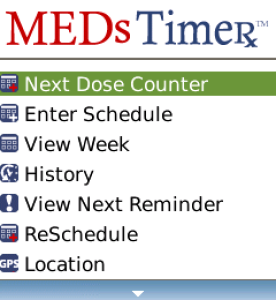 App Name:MEDsTimer
App Version:1.0.0.2
App Size:299 KB
Cost:US$4.99 USD
Filed Under: Health & Wellness Tags: Download Install, Medication Reminder, Medicine Schedule Schedules, Sync Key Previous Post: NatureSound Animals – relaxing nature sounds
Next Post: Skyscape's Merck Manual of Diagnosis and Therapy