QuantiaMD – Knowledge You Need. Colleagues You Trust.
QuantiaMD is available only to health care professionals. All members are verified during registration.
QuantiaMD members can:
– Compete in Monthly Medical Challenges
– Watch exclusive Expert Practice Series segments 8 to 10 minute clinical presentations with key insights from leading experts
– Earn free CME credits
– Interact with thousands of colleagues in our specialty communities
– Create or respond to discussion topics
– Earn Rewards Members can earn Q-Points* for referring colleagues, completing medical challenges, participating in surveys and more.
*Q-Points are redeemable for Amazon.com gift cards.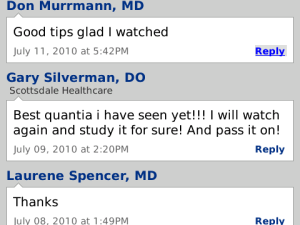 App Name:QuantiaMD
App Version:4.1.61
App Size:1181 KB
Cost:FREE
Filed Under: Health & Wellness Tags: CME, Earn Rewards Members, Expert Practice Series Previous Post: Journal Watch Oncology and Hematology
Next Post: Surya Namaskar for weight loss