The worlds most widely used medical reference is now better than ever. This latest update is based on the 19th edition with additional features, enhanced functionality and ongoing updates.
Merck Manual of Diagnosis and Therapy is worlds most widely used medical reference now features expanded clinical focus on each disorder, as well as more specific guidance on patient examinations.
- Designed for maximum clinical utility, the new Merck Manual makes it easy to find the right information, right when it is needed
- Packed with essential information on diagnosing and treating medical disorders
- Must-have for medical students, residents, practicing physicians, nurses, and allied health professionals
- Written by a team of clinicians for everyday use by medical professionals for delivery of the best care to their patients
- Includes additional 850 topics, 15 new chapters, over 300 new tables, and 56 new figures
This Skyscape trusted resource was created in partnership with Merck Sharp & Dohme Corp., a subsidiary of Merck & Co, Inc.
Content updates for 12 months and 90 days phone support chat and email for a year are included with your purchase.
DISCLAIMER: This application is for medical professionals. In case of a medical emergency, call your local emergency response number. Consult your physician before making medical decisions.
ABOUT SKYSCAPE on BlackBerry
This app will install your new resource into the Skyscape Medical Resources environment. All Skyscape titles over 600 of them, for all professions and specialties and services like MedAlert and CME-STAT are accessed from within this environment.
Using our award winning technologies, including the patented SmartLink, Skyscape coordinates resources for drug information, interactions, clinical information, calculators, tools, clinical trial and research updates. We provide a single point of entry and seamless integration of resources, providing the best user experience for point of care decision support and research needs.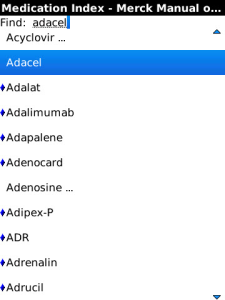 App Name:Skyscape's Merck Manual of Diagnosis and Therapy
App Version:3.0.0
App Size:228 KB
Cost:US$79.99 USD
Filed Under: Health & Wellness Tags: Merck Co, Merck Manual, Skyscape Medical Resources Previous Post: MEDsTimer
Next Post: Weight Tracker