Point. Refill. Pick up. Its that easy with Refill Rx by Scan. This exclusive Walgreens app feature lets you use your BlackBerrys camera to order prescription refills in seconds. Its time you experienced the convenience of Walgreens on your BlackBerry.
The Walgreens app is loaded with tons of great new time saving features. Find the store nearest you with GPS positioning. Find in-store savings through your local Weekly Ad. Order photo prints in seconds.
Pharmacy Features
Walgreens makes refilling prescriptions quick and convenient with options suited to fit your needs.
*New Refill Rx by Scan: Just scan the barcode on your prescription bottle for instant refills
*Order refills from your account history using your device
*Secure access to your prescription history from the palm of your hand
*Enter a prescription number for refills
Photo Features
Walgreens makes printing and sharing pictures on the move fun with new easy-to-use features.
*Order prints from your BlackBerry device
*Pick up your photos at a local Walgreens or have them shipped directly to you
Shopping Features
Walgreens great sales and savings are now available to you anytime, anywhere.
*View your local Weekly Ad
*Check product availability and pricing at any store
*Find a store and map directions with our new Store locator
There is no charge to download the Walgreens App, but specified rates from your wireless provider and other fees as noted in your Walgreens account agreements still apply.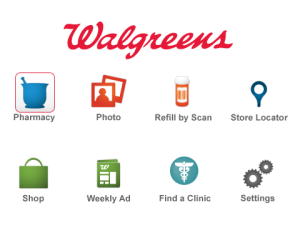 App Name:Walgreens
App Version:2.0.0
App Size:837 KB
Cost:FREE
Filed Under: Health & Wellness Tags: Pharmacy Features, Shopping Features, Walgreens App, Weekly Ad Previous Post: Surya Namaskar for weight loss
Next Post: ACC Pocket Guides