Web locator AddOn for award winning eMobile Family Locator
2010 BlackBerry Partners Fund Super Apps Developer Challenge Regional Selection
Named 2010 Top 25 BlackBerry Apps for Public Health Professionals
Features:
Locate friends, family member and missing phone from web.
Add as many people as you want from web People Manager.
Locate people by one single click. Requires that they also have eMobile family locator installed on their devices
Display friends location on Google map
Check friends location history easily.
1. Register account from eMobile Family Locator application on your phone.
2. Login from: http://www.emobilesoft.com
3. Add friends by sending invitation emails
4. Locate friends by clicking Send Location Request button.
5. Click Refresh to display friends location after a while.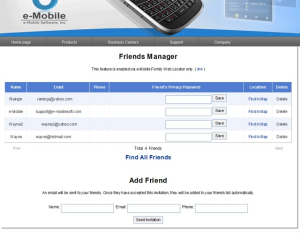 App Name:e-Mobile Family Web Locator
App Version:1.0.0
App Size:1 KB
Cost:
Filed Under: Maps & Navigation Tags: App Name, Click Refresh, People Manager, Send Location Request Previous Post: Editus.lu
Next Post: Geocacher