Please read this description in full before downloading Geocacher. Geocacher is meant to be a GPX and LOC file manager replacing the need for a separate GPS device such as a Garmin or Magellan and does not currently support interaction with Geocaching.com. An interactive application should be available by mid August.
Geocacher is a utility for true paperless Geocaching. It can be used to help Geocachers find and manage caches theyre searching for or just wishing to create. Whether youre a paid Premium Member or free user at Geocaching.com, this app will be endlessly helpful to you in your hunt for the caches.
You will be able to import thousands of GPX and LOC files stored directly into the persistent memory on your BlackBerry. Geocachers Audio Beacon functionality, along with the onscreen visual cues, will make finding caches quicker and easier!
We also offer Search and Sort of stored Geocaches to help you determine which cache you want to find next. Found a cache? Mark it as Found and use the Find Nearest Geocache option to quickly and easily jump from cache to cache. You can use Search to plot up to 10 nearby caches on a single BlackBerry Map!
Did you find 50 caches today? Create notes along the way with our simple edit feature. Was that cache harder to find than 1.5 stars? Note it so you dont forget it when youre ready to log it.
For imported GPX files, the hint will stay encrypted until you choose to decrypt it for a more difficult caching experience!
With seamless GoogleMaps and BlackBerry Maps integration, easily pinpoint your relative location to the cache and even get driving directions to get you there faster.
Future releases will allow access for Premium Members at Geocaching.com to find and log all of your geocaching adventures on the go as you find caches. All upgrades after your initial purchase will be FREE!
NOTE: Your service provider such as Verizon may not allow 3rd party vendor applications to use the internal GPS. Consult with your service provider before deciding to download. To use GoogleMaps integration, GoogleMaps must be installed and their license agreement must be accepted.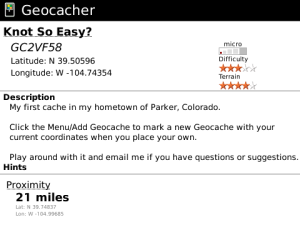 App Name:Geocacher
App Version:1.0.5
App Size:94 KB
Cost:US$4.99 USD
Filed Under: Maps & Navigation Tags: Find Nearest Geocache, GPS, GPX, LOC Previous Post: e-Mobile Family Web Locator
Next Post: Milan On-Device GPS Map Offline Map