Exclusive for Telekom Deutschland customers
Mobile navigation throughout germany Europe!
NaviGate in its latest version 4.0 is more than a mobile navigation system. It turns your BlackBerry into a GPS guide who will help you explore Germany and Europe.
Whether the fastest route to a family reunion or a business lunch NaviGate always finds the best path. Exclusively for Telekom Deutschland customers 24 months free instead of 4,95 € / month!
Overview:
For free usage
Navigation in 2D/3D throughout Germany
Launch NaviGate from the BlackBerry address book
No map updates required, as access to the latest map data from the NaviGate server
ADAC car breakdown service with automatic transmission of your location as text message
POIs in your neighborhood or near destination
Integration of DasTelefonbuch white pages find addresses and telephone numbers of companies and private persons
Wikipedia information about POIs in your neighborhood
Share locations and routes with family and friends on Facebook, Twitter, via SMS or EMail.
5 day weather forecast
With booking of day or monthly flat Germany
Now with 3 new features!
Speedlimit and speed warning
Lane Assistent
Reality View realistic 3D pictures
Dynamic route planning with Navteq Traffic pro TMCpro: traffic congestion, alternative routes
InApp booking possibilities:
Day flat Germany for 0,99€
Day flat Europe 2,99€
Monthly flat Germany for only 4,95€
Monthly flat Germany is a 3 month contract period. All costs are settled via your mobile phone bill from Telekom Deutschland GmbH.
from 01.05.2011 the option NaviGate Flat is 24 month for free for all BlackBerry customers of Telekom Deutschland with a new BlackBerry device ordered at Telekom Deutschland. Valid, as long as in stock, for BlackBerry Curve 9300, BlackBerry Bold 9780 and BlackBerry Torch 9800 as well as future devices. Start of usage latest 31.12.2011. Card material for Germany. Not included is dynamic routing, lane assistance, speed limit and reality view. Usage of NaviGate needs installation beforehand. The free of charge app version includes location based adverts that can be disabled. Dynamic routing is possible by booking day pass or monthly flat rate for germany. After 24 month period the app can get rebooked for 4,95€/month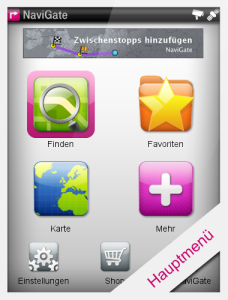 App Name:NaviGate
App Version:4.0.1
App Size:2638 KB
Cost:FREE
Filed Under: Maps & Navigation Tags: Europe, Germany, Navteq Traffic, Telekom Deutschland Previous Post: Golsat Klip
Next Post: FloridaEvacuates Mobile