NavTrack navigation Australia Edition
NavTrack is a state of the art GPS navigation and tracking application. Simply download the app and use your mobile to find any address where you want in Australia. Convenient for driving or walking you will view your precise position in realtime using reliable 2D and 3D interactive maps and with a builtin phone menu can still make and take calls without switching screens. All movements of your device can be monitored by the internet and colleques or familymembers can be traced and seen on your BlackBerry. This new version 1.4.7.9. contains the following extra features:
Social Networks menu button for automatic posting of your position on Facebook
Route calculation choosing drive or walk mode on launch time
Compatibility for Tour 9630 and Bold 9650
OS 7.0 compatibility for models 9900, 9930, 9810, 9850, 9860, 9350, 9360, 9370
Product Features:
Voice Instructions
Convenient voice instructions tell you every turn to make so you dont have to take your eyes off the road or your phone out of your pocket.
Easytouse
Userfriendly dashboard is easy to navigate and gives you the option to view maps in 2D 3D.
Ideal for driving or walking
With NavTrack conveniently to hand on your mobile device you can use it whenever you need directions.
Automatic rerouting
If you take a wrong turn or a road is closed, NavTrack has a builtin automatic rerouter so you can find an alternative route without any hassle.
Estimated time to destination
Knowing what time youre due to arrive gives you time to plan ahead and decide what youre going to do when you get there.
Day and night mode
Automatically switches between day and night so you can concentrate on the road.
Distance to the next manoeuvre
NavTrack not only identifies your next turn but also tells you how far away you are giving you plenty of time to slow down or change lanes and manoeuvre into position.
Automatic zoom
Narrows your geographic position so you can easily check your location at a glance.
POI search and phone call
NavTrack records where you want to be and where you have been and at the same time allows you to make phone calls without switching screens.
Highly accurate and reliable street information The interactive street maps are updated every three months four times a year. The map information is highly reliable and is viewed in realtime both on your mobile handset and remote locations such as your home computer.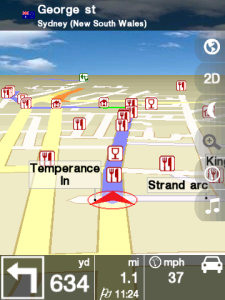 App Name:NavTrack Australia
App Version:1.4.7.9
App Size:1708 KB
Cost:US$49.99 USD
Filed Under: Maps & Navigation Tags: Social Networks Previous Post: Milan On-Device GPS Map Offline Map
Next Post: Sea Food Finder