OpenItaly for BlackBerry is the new DataFox application that allows you to access the Italian touristic social network OpenItaly.net. OpenItaly.net is a free and open collaborative project with the goal of promoting events, resources for tourism in Italy, check advertisement, meet new friends and share opinions.
OpenItaly for BlackBerry allows you to access easily and intuitively thousands of Italian touristic information, useful for travelers or simply for those looking for a new restaurant to try. But, through the use of GPS integrated in the BlackBerry smartphones, OpenItaly for BlackBerry does much more: it can find Italian touristic resources closer to the user and it can guide him to destination, because it is integrated with the Maps software.
The key feature of OpenItaly for BlackBerry is the search of Italian touristic resources. The search can be performed by keyword or based on the user s GPS location. It is available an advanced search function and this allows you to specify different criteria, e.g. region, province, type of resource.
The functions available in OpenItaly for BlackBerry version 1.2 are:
Last Resources and Incoming Events
Full Detail information, description, opinions, pictures of resources and events, with the possibility to call, to send email, to open Web site, to view position on Maps
Near You
Basic Search and Advanced Search
Top Ten of the Week
Bookmarks
OpenItaly.net News
Login with OpenItaly.net account
Addition of opinions on the resources only for registered users
OpenItaly for BlackBerry retrieves its data directly from OpenItaly.net and in this way it is always updated. The remote calls exploit the standard HTTP protocol and they may rely on any of the channels of communication offered by the BlackBerry WIFI, BES, BIS, TCP, WAP , according to user settings.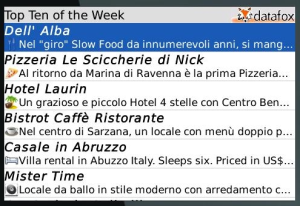 App Name:OpenItaly
App Version:1.2.2
App Size:266 KB
Cost:FREE
Filed Under: Maps & Navigation Tags: BES, GPS, Italy, TCP Previous Post: PilotView
Next Post: Drew Ford Vehicle Assist