Snikkr Mobile is a locationbased, social productivity application, that allows you to
use maps, get directions, find local businesses and points of interest. It also
let you keep track of where your friends and family are, and share favorite places with them.
Communicating and coordinating with your friends and family has never been easier.
You can also share your location and current status, for as long or short as you need to,
with anyone who has an email address and a web browser, even if they are not using Snikkr
themselves.
Snikkr works with all BlackBerry devices with OS 4.5 and later.
Also, after you download Snikkr from AppWorld, the first time you run the application you will be asked to register with Snikkr. You must register with Snikkr to use most of the features of Snikkr Mobile e.g., directions, local search, friend tracking.
If you have any problems with Snikkr, or have suggestions for us, please use the Submit Bug or Send Feedback menu items from the applications main menu, or from our web site.
Notes:
You should only use Snikkr if you have an unlimited data plan, and a device that supports GPS.
Verizon users will only be able to see their own location if they are using a Storm. Verizon does
not allow Snikkr to access the devices GPS on Pearl and Curve. Also, we have had users on the Sprint Now network report some networking problems.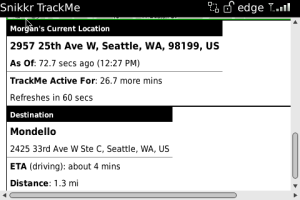 App Name:Snikkr
App Version:2.1.11.909
App Size:490 KB
Cost:FREE
Filed Under: Maps & Navigation Tags: GPS, OS, Send Feedback, Snikkr Mobile Previous Post: Spotcycle
Next Post: GeoMobile for ArcGIS