The Rally App.Rally is your local set of Gas Stations and Convenience Stores of Pinellas County.
Whether you need a tank of high quality gasoline, a Slurpee, perks gourmet coffee or delicious food to go, Rally has you covered with the Rally App!
FIND A STORE AND GET DIRECTIONS
Find the closest Rally stores and get directions from your current location. Find nearby stores basedon city and state, or zip code.
CURRENT GAS PRICES
Get realtime gas price information for Guppys stores.
STORE FEATURES AND SERVICES
Find a station with a particular fuel type, locate the nearest Rally with a restaurant, or a store with fleet fueling.
PROMOTIONS ALERTS
Signup to receive instant alerts about special promotions and deals available at Rally stores via push notifications
SEND FEEDBACK TO STORES
How was your Rally experience? Tell us by submitting your comments directly from your iPhone!
RALLY STORES MISSION STATEMENT
Our mission is to grow people, assets, and profits within a positive working environment and through the highest standard of ethics, integrity, and professionalism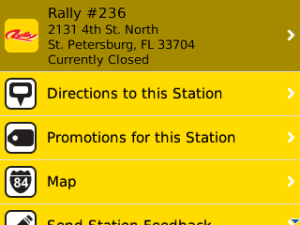 App Name:The Rally App
App Version:2.5.5
App Size:486 KB
Cost:FREE
Filed Under: Maps & Navigation Previous Post: Los Angeles On-Device GPS Map Offline Map
Next Post: PagineGialle Mobile