Thorntons Store Finder, is one of the leading independent gasoline and convenience chain retailers in the U.S., currently operating throughout the Midwest under the brand name Thorntons. With over $1.7 billion in revenue, Thorntons is one of largest privately held corporations in the Commonwealth of Kentucky. Headquartered in Louisville, Kentucky, Thorntons operates over 160 gasoline and convenience stores, car washes and travel plazas in five states: Kentucky, Illinois, Indiana, Ohio, and Tennessee. For more information visit www.thorntonsinc.com and follow us on Facebook at www.facebook.com/thorntonsinc and Twitter at www.twitter.com/thorntonsinc Thank you for making Thorntons Your Favorite Place to Stop When You Are OnTheGo. Were proud to offer mobile applications as the next step in our customer service journey stop in today!
FIND A STORE AND GET DIRECTIONS
Find the closest Thorntons store and get directions from your current location. Find nearby stores basedon city and state, or zip code.
STORE FEATURES AND SERVICES
Find a station with a particular fuel type e.g. diesel, e85 or kerosene, or locate the nearest Thorntons that has what you need!
DEAL ALERTS
Sign up to receive alerts on exclusive promotions and deals available at Thorntons locations.
Thorntons offers convenient products, Fresh Food, Fabulous Fountain Drinks, Great Coffee and Superior Customer Service. We invite you to stop by quench your thirst, pick up some breakfast, lunch, or wash your car! Whatever you need, weve got it!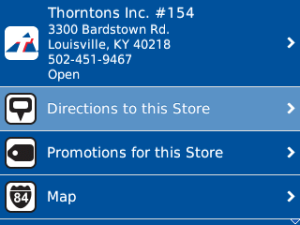 App Name:Thorntons Deals App
App Version:2.5.9
App Size:524 KB
Cost:FREE
Filed Under: Maps & Navigation Tags: Fabulous Fountain Drinks, Fresh Food Previous Post: Apontador Transito
Next Post: Harvard Radio