UbiNav for Italy
SUPER APP! Winner at 2010 BlackBerry Super Apps Developer Challenge EMEA!
Turn your mobile device into a reliable GPS mapping solution with realtime turn by turn navigation on screen. You may also listen the turnbyturn vocal instructions and find whatever you need wherever you are. You can find, map, navigate to, or simply call over 200,000 businesses listed and eventually save them among a your list of Favourite locations for future use.
When driving with UbiNav you may switch between 2D, 3D and Overview map. Moreover, the navigator will provide you with your time to arrival, distance to arrival and time of arrival. In addition, a small pictogram icon will help you know exactly which way to turn on complex intersections or which exit to take at a roundabout. UbiNav lets you interact with your Facebook profile to provide friends and contacts with realtime information about your movements: every time you start a navigation with UbiNav you can update your profile with information such as Im leaving now for …, My estimated time of arrival is …, Im arriving at. …
You do not need to download upgrades or updates as UbiNav Navigation updates itself with latest maps every three months! Furthermore UbiNav exploits BlackBerry internet service BIS, with no extra charges to your accounts billing. For one year subscription, you may choose on all italian map database to navigate and a choice of 13 languages. With its dynamic menu interface the application is easy and intuitive.
UbiNav compatibility list now includes even nonGPS BlackBerry smartphones: just connect a GPS receiver via Bluetooth and navigate with UbiNav! Models Pearl 8100, Curve 8300 and 8520 require external Bluetooth GPS receiver to work with UbiNav.
UbiEst is a leader in the mapping and navigation software solutions.
Please visit http://www.ubiest.com to discover more about our company.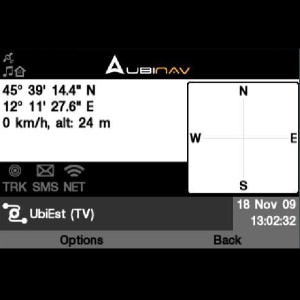 App Name:UbiNav Italia
App Version:1.4.7.9
App Size:1692 KB
Cost:US$29.99 USD
Filed Under: Maps & Navigation Tags: BIS, GPS Previous Post: GPSed Lite Track and Map Your Trips
Next Post: Navitel Maps