Want to know where the nearest something is? Perhaps the nearest Mexican restaurant or the nearest Museum? Then you need Where Is Where Is will show you where the nearest anything is, from Saunas to Shops and from Parking to Police.
Simply type in what youre looking for or select from one of your favourites. The app will show you the nearest places matching your search, along with their address and phone number. Click Map and the app will show you where they are on a map and where you currently are.
Simple, fast and accurate! Check out the screenshots to see how powerful the app is.
If youve seen Google Places on other smartphones, then youre going to get a very similar experience from this app.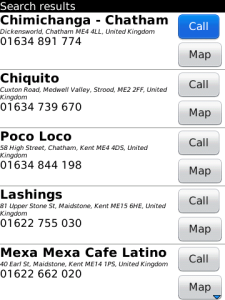 App Name:Where Is
App Version:1.0.1
App Size:114 KB
Cost:US$2.99 USD
Filed Under: Maps & Navigation Tags: Click Map, Google Places Previous Post: Trafficmaster Companion
Next Post: Maxis WiFi