Looking for somewhere new to eat tonight? Want to know what movies are playing at the local theater or somewhere else close by? Traveling and want to find the cheapest gas or closest cup of coffee? Everywhere you go, this app will help you find just about anything local restaurants, news, weather, cheap gas, movies, friends and more!
This application is a local portal that will connect you with information that will help you find the people, places and things around you everywhere you go, while also saving you time and money. Local information includes weather, news, restaurant reviews, a store locator for top brands of your choice, cheap gas, traffic updates, movie show times and trailers, and the ability to connect with other people anywhere for a quick chat. And, location enabled coupons and special offers from top retailers and restaurants will help you save money while on the go. It also helps you get wherever you are going with maps and directions.
You can also search and discover on the web at www.where.com. You can discover places and events, save them, and they will automatically synch with the app on your BlackBerry.
Use this application to feel like a local everywhere you go!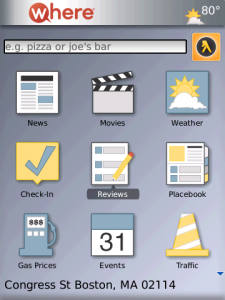 App Name:WHERE
App Version:2.1.0
App Size:1945 KB
Cost:FREE
Filed Under: Maps & Navigation Previous Post: Gasaviso
Next Post: UbiNav EU