Get your Columbia area news, sports, entertainment stories and obituaries all in one place, when you want it, wherever you are. And its all absolutely FREE.
MyColumbiaNews is your key news source within the boundaries of the Columbia Borough School District in Lancaster County, Pa.
An affiliate of LancasterOnline.com and Lancaster Newspapers Inc., the site also features comprehensive news, sports, business, feature and entertainment coverage from throughout Lancaster County, Pa., plus weather and traffic information.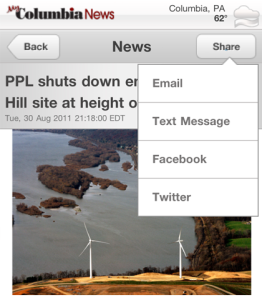 App Name:Columbia News
App Version:1.0.0
App Size:53 KB
Cost:FREE
Filed Under: News & Magazines Tags: FREE, Lancaster County, Lancaster Newspapers Inc Previous Post: Intel Free Press
Next Post: Hanover Evening Sun