Get PCWorld news, reviews, howtos and charts formatted for your BlackBerry. PCWorld for BlackBerry app is designed to provide you instant access to PCWorlds awardwinning content, all in the palm of your hand.
Access to the latest PCWorld.com news and Top Rated charts in numerous product categories ranging from smartphones to HDTVs to cameras.
Save article, post on Facebook or Twitter, or email to friends.
Offline reading and more!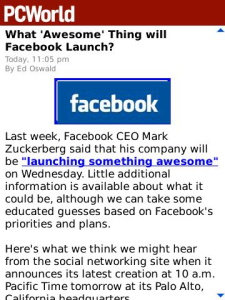 App Name:PCWorld
App Version:3.0.0
App Size:496 KB
Cost:FREE
Filed Under: News & Magazines Tags: Top Rated Previous Post: WPR Mobile World Politics Review
Next Post: Khaleej Times for BlackBerry PlayBook