Radio CBN application for Blackberry allows the access to the radio programming, realtime, either from a cell phone network or a WiFi hotspot connection. The application allows its users to have access to all 4 CBN radio stations CBN São Paulo, Rio de Janeiro, Brasília and Belo Horizonte, as well as to a podcast collection granted with a list of their favorite program and/or commentator host anytime anywhere.
Functionalities:
Audio Streaming Client
Radio CBN News and Alerts
Online simultaneous broadcasting of each one of the offline CBN stations
Every newsoriented concept practiced by CBN stands for the exemption, giving it room to the plurality of opinions and a critical analysis on what`s behind the facts. There are about 200 journalists, among reporters, producers, editors, anchors and a great variety of commentator hosts. CBN is located in the main brazilian cities São Paulo, Rio de Janeiro, Brasília e Belo Horizonte owning 4 headquarters and 24 affiliated branches.
CBN also keeps partnerships with BBC Brasil, which provides the network with exclusive material for the listeners; with RFI Português, the brazilian sector for Radio France; and Radio ONU always aiming to have access to the most uptodate international news sources, which share the same journalistic values and quality of exemption.
From now on both Radio CBN online and offline contents are available anywhere anytime through your Blackberry.
Download the application now and enjoy it!
CBN the all news intended station.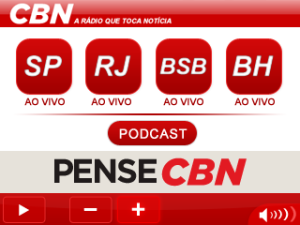 App Name:RADIO CBN
App Version:1.4.2
App Size:141 KB
Cost:FREE
Filed Under: News & Magazines Tags: Belo Horizonte, CBN Previous Post: TheStreet
Next Post: Pipeline Pro