If you are an enthusiastic football fan, then you will love this free fan application providing comprehensive coverage and updates for your favorite Texas teams and more!
The Texas Football application provides the latest news, scores, polls, standings, roster, video and photos for college and professional teams throughout Texas and beyond. The application also contains news and standings on all NCAA conferences to serve all sports enthusiasts.
Texas Football application features:
Daily news so youre never out of the loop
Houston Texans and Dallas Cowboys links
College football news
Texas High School football
Schedules and scores
Standings and polls
Rosters
Player injuries
Fan photos and slideshows
Sports blogs
Player injuries
Transactions
…..and much more content!
Social Media features:
Official Facebook sites
Twitter feeds for Texans players
Twitter feeds for Cowboys players
Upload fan photos
Best of all, this application is presented in an easy to read format!
Download the free version now and get the latest news on your favorite team this season!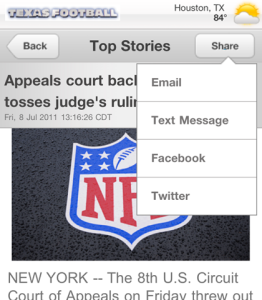 App Name:Texas Football Sports News
App Version:1.0.0
App Size:17 KB
Cost:FREE
Filed Under: News & Magazines Tags: Official Facebook, Rosters Player, Texas Football, Texas High School Previous Post: Nation News
Next Post: KSTP Local News and Weather from 5 EYEWITNESS NEWS