TVPool mobile solution is a push mobile news content browser solution that runs on multi mobile platforms. End users shall get real time TVPool content push via mobile data connection including mobile wifi, if applicable such as news and various related contents such as news feeds, video streaming, podcasts and so on.
TVPool mobile client provides user friendly and advanced mobile device experience for TVPool customers simply by installing the thin client into their existing mobile phones and enjoys a much more featurerich content browsing experience.
Key features:
Conveniently browse the latest news and get push news on celebrities
Browse news based on Topics that interest you
List and watch video streaming of your favorite celebrities
List and play audio streaming
Browse photo galleries and many more..
Note: TVPool service currently will ONLY available for Thailand mobile customers AIS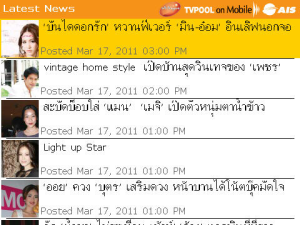 App Name:TVPool
App Version:0.0.17
App Size:272 KB
Cost:FREE
Filed Under: News & Magazines Tags: Thailand Previous Post: Canadian Cattlemen Mobile
Next Post: Crime Scene CPH