Download the power of the WWBT NBC 12 News application right to your BlackBerry!
NBC12 News provides you with local news, weather and traffic coverage for Central Virginia.
Features include:
Breaking news alerts
First Warning Weather
First Warning Traffic
School closings
Live, local news headlines and stories
Live radar
Storm tracking
Sports
Video
And so much more!
Serving: Richmond, Chesterfield, Henrico, Hanover, Petersburg, Hopewell, Dinwiddie, Prince George, Charles City, Powhatan, Amelia, Cumberland, Sussex, King Queen, Louisa, Hopewell, Chester, Goochland, Caroline, King Willian, and New Kent.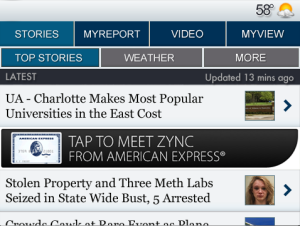 App Name:WWBT NBC12 News
App Version:2.0.0
App Size:604 KB
Cost:FREE
Filed Under: News & Magazines Previous Post: 680 News Toronto
Next Post: 660 News Calgary