IMSeye allows users to monitor some district by connecting their BlackBerry to their DVRs or IPCameras.
1.PTZ control.PTZ must be supported
2.multiple channels.
3.If users choose 3G in the NetworkType,APN is required to be filled,which could be found in OptionsAdvanced OptionsTCP/IP under System OS 5.0 and in OptionsDeviceAdvanced System SettingsTCP IP under System OS 6.0.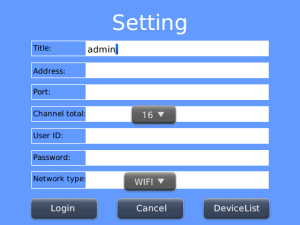 App Name:IMSeye
App Version:2.1.519
App Size:458 KB
Cost:FREE
Filed Under: Photo and Video Tags: APN, PTZ Previous Post: Pocket Food Photography
Next Post: Twilight Sea