Resize images to a smaller size or to fit a specific width and/or height. Resizer Pro is easy to use and can be accessed by using the file explorer and the Resizer Pro menu item shortcut. You can resize by selecting a percentage or a width and/or height, with or without keeping the ratio.
Features:
Accessible by file explorer menu item
Resize by percentage
Resize by width and/or height
Keep the ratio of the image or not
Save on the device memory or SDcard
When you buy the application you get a registration code from App World which you can use to register the application with. In case you lost or forgot the code you can get it at icecoldapps.com. Register the application by starting it, press the BlackBerry menu button and click the register menu item.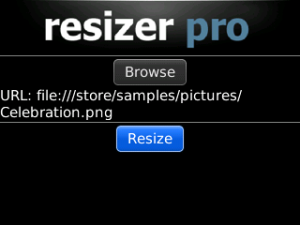 App Name:Resizer Pro
App Version:2.0.0
App Size:298 KB
Cost:US$0.99 USD
Filed Under: Photo and Video Tags: App World, Resizer Pro Previous Post: iMEye
Next Post: Wildgrass_Weed