A feature I have always wished came included with the builtin BlackBerry PlayBook Voice Chat application is to not only be able to chat with one another, but to start up a slideshow and be able to share photos with one another while narrating them, just like you do with friends and family after getting back from a trip.
Slideshow allows you to do just that: Share your photos with friends and family as if you were sitting on a couch together.
After starting a Voice Chat, make use of the BlackBerry PlayBook multitasking capabilities by switching to Slideshow. As you move from photo to photo, what you see will be replicated on the other users BlackBerry PlayBook, including buttery smooth image transition affects, allowing you to share and narrate your latest adventures, or keep grandma and grandpa up to date. each participant must be using a BlackBerry PlayBook and must have the Slideshow app.
This free version of the app allows slideshows of up to 5 photos.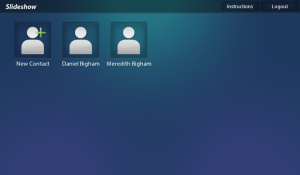 App Name:Slideshow Free
App Version:1.0.0
App Size:717 KB
Cost:FREE
Filed Under: Photo and Video Tags: Voice Chat Previous Post: ShoZu
Next Post: TeenNick Mobile Web Site