Use TimeLapse to make time lapse or stop motion videos! Put your BlackBerry on some steady place and let your device take frames every set x number of seconds or take frames whenever you want for your stop motion video! You can convert your frames to MP4, 3GP, WMV, FLV or MPG only MP4 and 3GP will play on your BlackBerry.
First note: The frames are screenshots taken from the screen; this prevents the shutter sound from playing. However it decreases the quality of the frames.
Second note: In order to convert the frames to a video you need to upload all the frames to our server where the converting will occur, this will all automatically happen in step 3. However, it can take quite some time. You can also connect your BlackBerry to your computer and save the frames there to convert them yourself.
Third note: There might some problems when keeping the application running for a few days, if you have any problems, contact us at blackberry@todaypda.com
If you find any bugs, let us know and we will try to fix them as fast as possible
Features:
Set your device to take a frame every X seconds
Take frames manually by clicking the navigation button or touching the screen
Save the frames to your internal memory or to the SD card
Convert the frames to mp4, 3gp, wmv, flv or mpg
Set the frames per second FPS for the video
When you buy the application you should get a registration code from App World which you can use to register the application with. In case you did not get it, lost it or forgot the code you can get it at icecoldapps.com . Register the application by starting it, press the blackberry menu button and click the register menu item.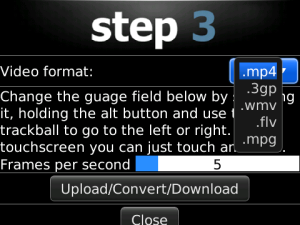 App Name:Time-Lapse
App Version:2.0.0
App Size:248 KB
Cost:US$3.99 USD
Filed Under: Photo and Video Tags: FLV, FPS, MPG, WMV Previous Post: Queue Manager Pro
Next Post: CAMultimate Camera Tools and Photo Effects Editor