FlashSMS Pro is an easytouse and costeffective application that disseminates Flash SMS messages to multiple recipients at one go from your BlackBerry device.
Flash SMS messages are similar to normal SMS messages except that they appear directly on the mobile display without having users to select the message after receiving them. Flash SMS messages can even be displayed in various fancy ways. For instance, it automatically scrolls on the mobile screen or similar effects.
Besides being convenient, without compromising on user privacy protection, FlashSMS Pro is a secure application where receiver can conveniently configure NOT to leave any trace or history in the phone after reading the Flash SMS messages.
NOTE: To send FLASH SMS to other countries, please enter the mobile numbers in the International Standard Format i.e. +Country Code followed by Mobile Number. For UK mobiles, please enter as +44xxxxxxxxxx etc.
IMPORTANT: Please confirm or contact your carrier network provider to ensure that your service supports sending or receiving Flash SMS.
Features:
1. Flash SMS content directly pops up on your friends mobile screen.
2. No additional charge incurred for sending a Flash SMS.
3. Able to send multiple Flash SMS to your friends at one time without any hazards.
4. No trace or history of the SMS in the receivers phone unless the receiver purposely save it.
5. It is highly secure and convenient but yet funny.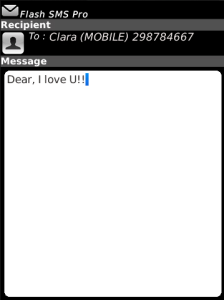 App Name:Flash SMS Pro – Class 0 Text Messages
App Version:2.0.1
App Size:102 KB
Cost:US$0.99 USD
Filed Under: Social Networking Tags: Country Code, International Standard Format, Mobile Number, SMS Previous Post: Facebook Lock App – App Lock PRO for Facebook – Lockdown Facebook Access NOW
Next Post: FatBookie