Find millions of like minded people and new friends with the Flirtomatic BlackBerry application. Its open to everyone over the age of 18 and helps you to find and flirt with millions of real people, if thats a new best friend, someone to have a chat to or your soul mate, or all of the above, its your choice.
Weve made Flirtomatic free, so you can send an unlimited number of messages, register and browse profiles. There are extras on the site that we charge for but youre under no obligation to spend. It only takes 20 seconds to get set up with a profile and start chatting on your BlackBerry.
Why not get involved today and have a whole lot of flirty fun on Flirtomatic.
SEARCH millions of profiles and photos. Find people near you, and search by gender, age, interests and flirting preference.
CHAT live send messages for free, or send a gift, a kiss, a wink or a supersnog to get the conversation started. Send a flirtbomb to hit many flirts in one go and just watch the
responses flood in.
BROWSE the top rated gallery to find the most popular, the most snogged and the most generous people on Flirtomatic! Check out their full profiles and photos and add your own.
HAVE FUN with tons of extras rate your faves, find out whos rated you, see whos checked you out, see whos online right now, delete your freak ratings… all these and many more. For some extras youll need to buy or earn Flirt Points.
Flirtomatic is a safe and secure service with customer support by phone and email.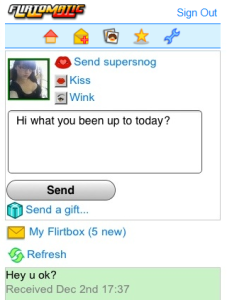 App Name:Flirtomatic
App Version:1.0.0
App Size:24 KB
Cost:FREE
Filed Under: Social Networking Tags: BROWSE, CHAT, Flirt Points, Flirtomatic Check Previous Post: echoecho friend locator
Next Post: Tweeker for Twitter FREE