IBM Connections is social software for business. It enables you to build a network of colleagues and subject matter experts, and then leverage that network to further your business goals. With its integrated suite of tools, you can share and discuss ideas, work collaboratively on presentations or proposals, plan and track project tasks, and much more. IBM Connections is a web application that is deployed on a company intranet to promote collaboration within the company. The IBM Connections mobile application extends access to company data to employees who are on the go.
Use the mobile application to perform common IBM Connections tasks with a minimal number of steps. If IBM Connections is deployed in your company, you can download this application and log in using the same credentials as always. The server must be running version 3.0.1 plus the July 2011 mobile update or higher and the mobile application must be installed on it. Check with your IT administrator if you arent sure.
If you do not have IBM Connections deployed in your company, but want to try it out, log into a deployment hosted on Lotus Greenhouse, which is an IBM product trial site. Just register with Lotus Greenhouse, and then, using your new app, go to https://greenhouse.lotus.com/mobile. Use the user name and password that you created when registering to log in.
IBM Connections 3.0.1 enables organizations to tackle daily work challenges by providing the most complete set of social capabilities for enterprises in the market today. These capabilities include:
Profiles lets you find people that you need. It not only represents a directory of the people in your organization, but also exposes valuable information that can be used to form and encourage social networks.
Communities brings together people with common interests. Communities help people who share common interests to collaborate easily by exchanging and sharing information and interacting with one another.
Forums provides a place to brainstorm and collect feedback on topics that are relevant to you and your colleagues. Statements and comments are collected in a format that allows for the exchange of ideas and displays them as an ongoing conversation.
Files provides an individual with a fast and easy way to share their content with others by uploading presentations, documents, videos, or any type of file into their own filesharing library.
Wikis is a great way to enable multiple users to collaboratively author web content in an easytouse environment. On the mobile device, users will have the ability to view their Wiki content.
Blogs is a corporate blogging system in which individuals can share their unique perspectives and expertise, solicit feedback, and share information.
Bookmarks lets you save, organize, maintain, and store bookmarks in a central location, allowing you to access your bookmarks from multiple computers or mobile devices.
Activities enables an individual to easily define a set of tasks for the purpose of communicating and collaborating with others to achieve a common goal.
Home page is a unique capability that is designed to bring all the other capabilities together in a single aggregated view. The Home page provides a view of updates and notifications from across your network. For instance, updates could be from people in your network or people you want to watch, or from tags you have identified that are of interest to you.
For more information about IBM Connections, go to the official product web site: www.ibm.com/software/lotus/products/connections/
For details about IBM Connections on Lotus Greenhous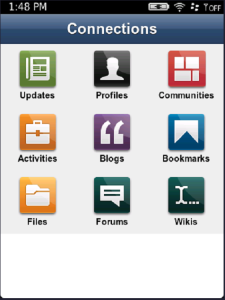 App Name:IBM Connections
App Version:3.0.2
App Size:510 KB
Cost:FREE
Filed Under: Social Networking Tags: IBM, IT, Lotus Greenhouse Previous Post: Tweedless
Next Post: VeraBlog via VeraSprite