UroApp is a mobile app that connects to a social network for Urologists in Canada.
Communications, Interaction, Groups, Notifications, Activities, Surveys and more…
Stay Connected with your colleagues and up to date with the best application for urologists on your BlackBerry.
Visit www.uroapp.ca for complete details and how to sign up. If you are a urologist in Canada this is the app for you.
Built on the Mobile Fringe Mobile Private Social Network Platform.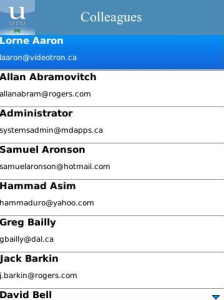 App Name:UroApp
App Version:1.0.0
App Size:1107 KB
Cost:FREE
Filed Under: Social Networking Tags: Canada, Stay Connected Previous Post: myProfile – Change Personal Status Messages and Pictures for BBM
Next Post: UberSocial for Twitter