77Agency, working in partnership with iMobileYou, are pleased to announce the launch of the Golf Club Bogogno BlackBerry application.
The application provides access to the club news feed, a list of the courses available at the Golf School, the Calendario Gare and a live webcam showing the weather conditions at the course in real time.
The application is offered to members of the Club free of charge.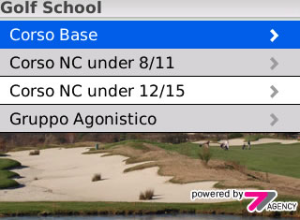 App Name:Golf Club Bogogno
App Version:1.0.0
App Size:728 KB
Cost:FREE
Filed Under: Sports & Recreation Tags: Calendario Gare, Golf Club Bogogno, Golf School Previous Post: Florida State Seminoles Gameday
Next Post: Tulsa GameTracker Mobile