Golf HandicAPP calculates your golf handicap and tracks your scores. The interface is easy to use! Your golf handicap is calculated using your score history. For each course you play, enter your score, the course rating, and the course slope into Golf HandicApp. If you have 5 or more scores, your golf handicap will be calculated and shown. The golf handicap history is shown so the player can see their previous golf handicaps. Numerous players can be tracked. The golf handicaps are calculated based on the USGA method.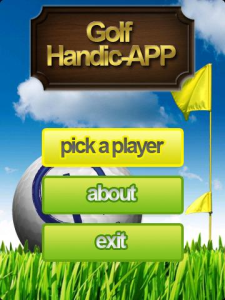 App Name:Golf Handic-APP
App Version:1.1.0
App Size:483 KB
Cost:US$2.99 USD
Filed Under: Sports & Recreation Tags: USGA Previous Post: Seahawks Inside Slant
Next Post: ComoTa!