Golfs most comprehensive news source. Golfweeks awardwinning writers tackle everything from the pros, to college and juniors, equipment, travel and business. By bringing them inside the ropes with breaking news and hardhitting commentary, Golfweeks readers are closer to the Game than anyone else.
1. Blogs: Golfweeks influential writers go beyond birdies and bogeys to deliver insider buzz from the PGA Tour, as well as news on college recruiting, equipment and business.
2. Uptotheminute information: If its happening in the world of golf, youll know about it.
3. Simple navigation: Find the content you want. Fast.
4. Rankings: Professionals, collegians and juniors.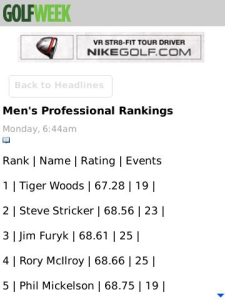 App Name:Golfweek
App Version:3.1.3
App Size:554 KB
Cost:FREE
Filed Under: Sports & Recreation Tags: Blogs Golfweeks, Rankings Professionals Previous Post: ESPN Radio
Next Post: NBC Olympics Mobile