Kombat Mobile presents Georges Rush StPierres first mobile application to connect with his fan via gaming, news, tweets, sharing training techniques and fitness regimens. Compete with other GSP fans on a leaderboard using Mixed Martial Arts trivia and gaming.
Georges is the current Welterweight Champion of the UFC and is ranked as the number 1 Welterweight in the world on Sherdog. Delve into his day to day life and be a part of his entourage with daily updates directly from Georges. Youll also have the entire GSP Team; consisting of seven specialized coaches, his chefs, and manager at your fingertips to answer your questions and of course tips to improve your Game from the legendary fighter himself!
The onestop app to get your daily dose of Mixed Martial Arts and Georges StPierre.
The mobile application features;
Photos Wallpapers
GSP Connect via Twitter
GSP MMA News
GSP RUSHFIT Previews from the Home Fitness DVD
About Georges the latest Fight Stats
Now completely FREE:
GSP TV with exclusive insider videos added regularly featuring Georges.
GSP NUTRITION includes secret recipes from Georges Chefs and video walkthroughs to prepare them.
GSP FIGHT SCHOOL where you get a oneonone training experience with the coaching staff and George with more exclusive video.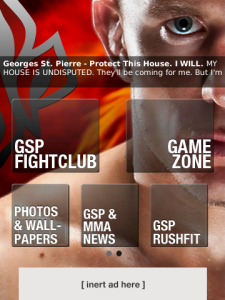 App Name:GSP for Non Touch Devices
App Version:1.0.0
App Size:5007 KB
Cost:FREE
Filed Under: Sports & Recreation Tags: GSP, Mixed Martial Arts, Non Touch Devices, Welterweight Champion Previous Post: Stumpy – The World Cup 2011
Next Post: PlayOr