Live soccer scores app for your BlackBerry! Track scores for all major soccer matches all over the world including all major soccer leagues as well as international competitions like UEFA Champions League, FIFA world cup, EURO cup etc.
Features
LIVE SOCCER SCORES
Provides live coverage and uptominute soccer scores.
OVER 70 WORLD SOCCER LEAGUES
Coverage of over 70 major leagues all over the world including world cups, euro cups and other international matches.
SOCCER LEAGUES STANDINGS TABLES over 300 leagues
Provides standing tables for about 135 countries with more than 300 soccer leagues!!
SOCCER WORLD NEWS
Browse the latest news from soccer world and read full articles online
INGAME STATS
Ingame statistics for each match including goals and red/yellow cards.
LATEST SOCCER SCORES
Featuring only matches played at the moment as well as recently finished and upcoming matches.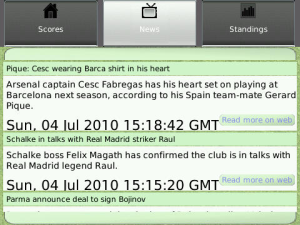 App Name:Live Soccer
App Version:3.0.0
App Size:920 KB
Cost:US$2.99 USD
Filed Under: Sports & Recreation Tags: EURO, FIFA Previous Post: Bengals Inside Slant
Next Post: Air Force GameTracker Mobile